ArtCloud Studio Visit: Karen Schwartz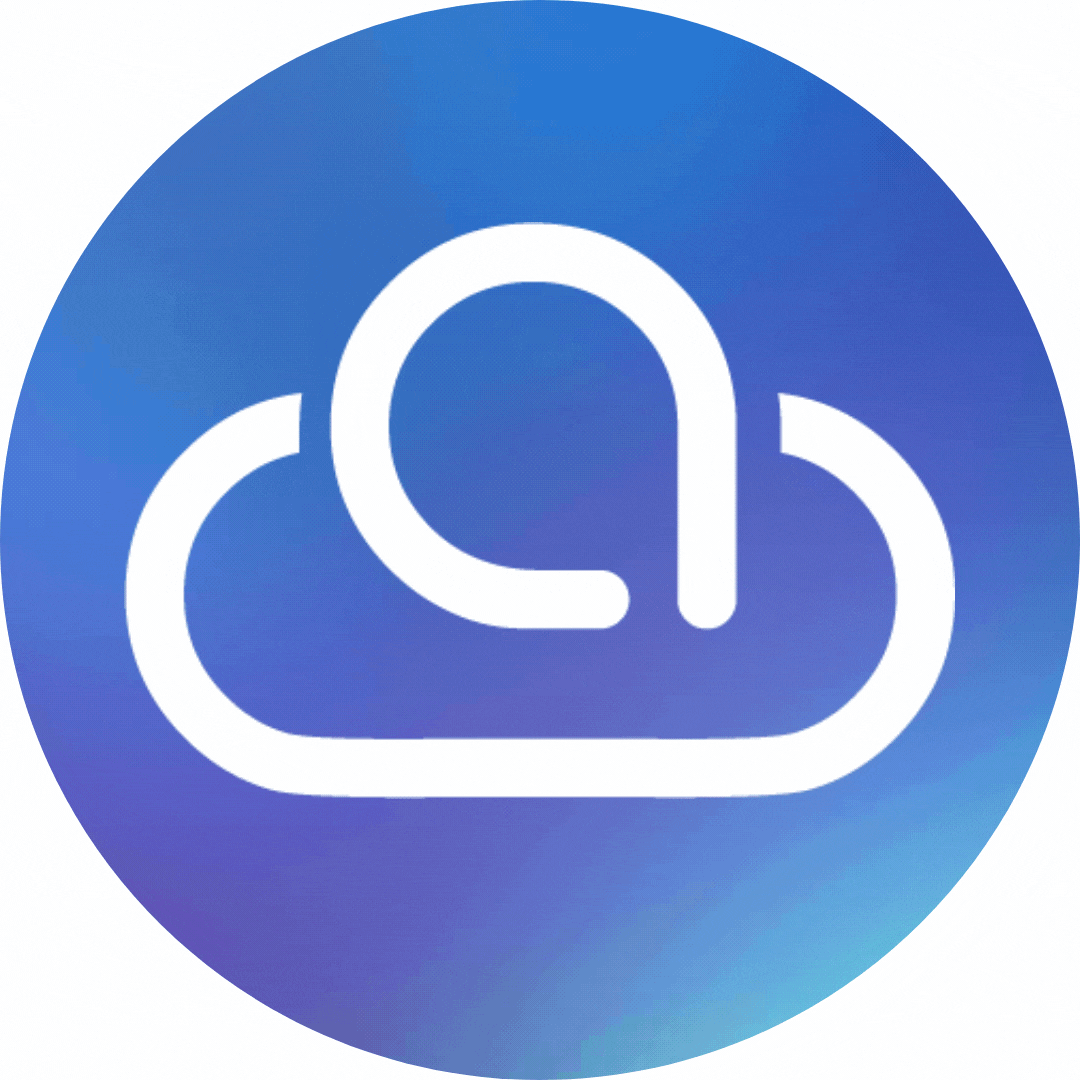 ArtCloud Team
Karen Schwartz occupies a peaceful corner of the bustling King Plow Art Center on the Westside of Atlanta, GA. Her studio is lit from large industrial windows, casting an even glow on her wide variety of mark making materials. From oil sticks to acrylic ink, Schwartz does not limit herself when making her work, which is often large scale. She is not classically trained but has been making art alongside notable Atlanta artists for decades, selling work from New York to Atlanta and beyond.
With over 800 pieces of inventory logged in her ArtCloud account, she is prolific and not afraid of bold color and big painting.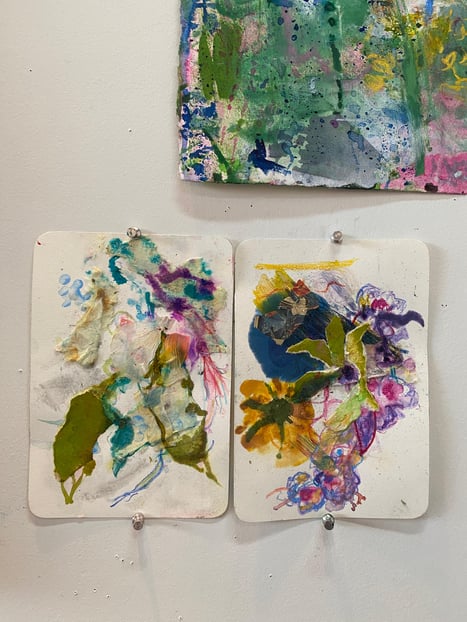 With periods of time spent between her Atlanta, GA and New York studios , her inspiration spans the east coast. When the pandemic was newer to us, Schwartz drew from the flora and fauna of New York in the warmer months; weaving the colorful blooms with feelings that we were all experiencing in the dawn of post-March 2020 times. Thus, many of her bodies of work reflect her environment, and her life.
ArtCloud Creative Director, Megan Schaeffer, visited Karen and dug into her process.
Portraits that enter abstraction in the way of Francis Bacon, portraits of well known characters such as Bowie, Leibowitz, and Richards.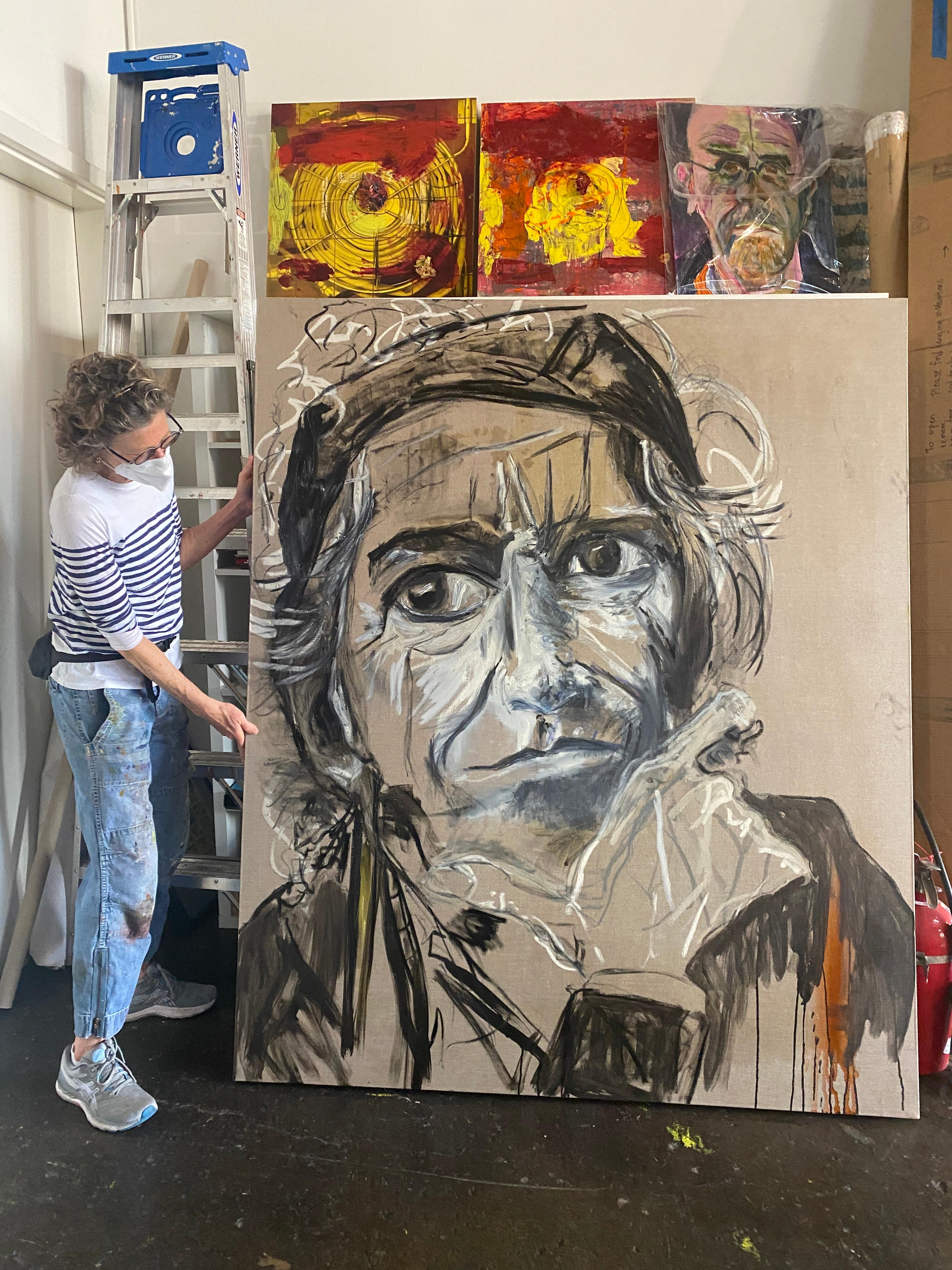 Megan was exhausted just looking at all of the large scale works. Schwartz paints with a gestural approach that is akin to exercise, perhaps a physical meditation. We doubt Schwartz needs to hit the gym, to say it non-elegantly.
---
"Schwartz's dual practices in art and psychotherapy clearly inform one another and have been key to her fascination with creative process in both endeavors. Her experience as a clinical psychologist practicing psychotherapy from a contemporary psychoanalytic perspective for over 25 years reflects an enduring passion and respect for personal idiosyncrasy that characterizes her early portrait work, the more recent and abstract, life-size human figure paintings, and now, her turn to the reservoir of personal experience within."
Karen has been an ArtCloud Customer for years, storing and organizing her vast inventory on our platform, along with being featured on our Marketplace.
We'll be back to her studio again soon to dive deeper into process. In the meantime, visit Karen's website to learn more about her work.
Are you an artist looking to organize
and sell your work online?