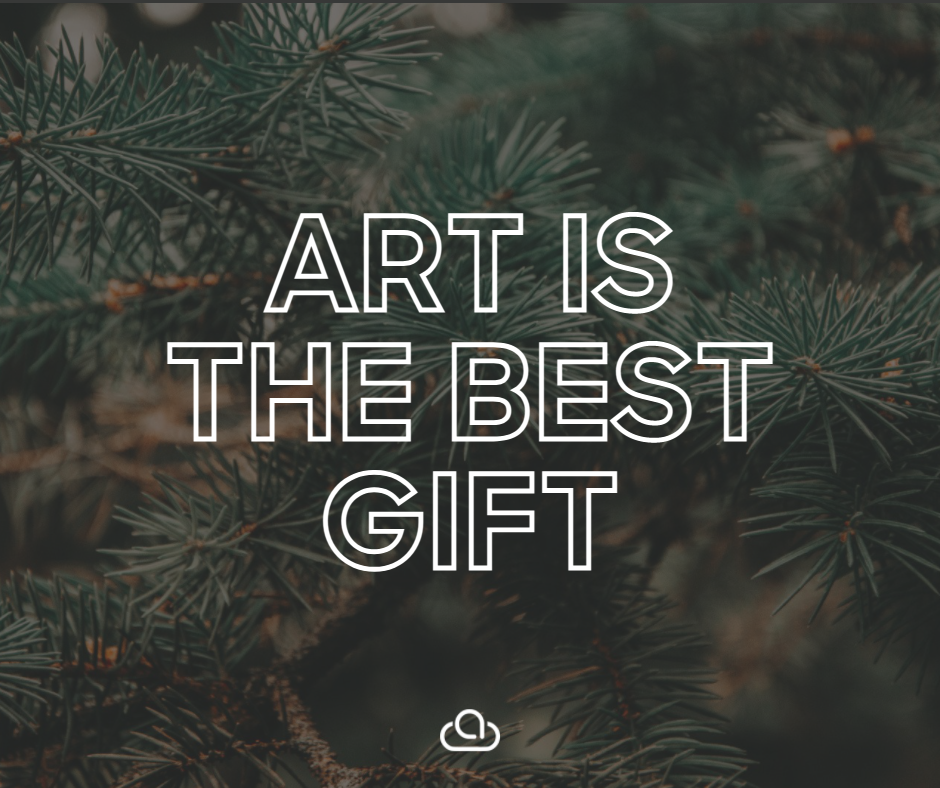 1. Create a Holiday Gift Guide
The holiday season means shopping time and we love the idea of creating a gift guide for your clients. People may want to give the gift of original art, but don't know where to start and what to purchase.
A gift guide could help narrow down which artwork would make an ideal gift for their loved one. You could even partner with other local businesses to include their gift ideas in your guide so you can all market together!
2. Personalized Holiday Gifts for Top Clients
Take a moment to say thank you to your top gallery clients by sending a personalized holiday gift. It's the little things like this that will endear clients to you and show that you value them.
It doesn't have to be anything extravagant. Just a thoughtful gift and a personalized note will be a wonderful way to thank them for their continued business with your gallery.
3. Host a Holiday Gallery Event
A festive, celebratory event is a really fun way to engage your clients and bring traffic into the gallery. Decorate the gallery and offer seasonal treats and cocktails to get clients into the holiday spirit. Entertaining clients is the perfect way to say thank you, while also allowing you to mingle and network, even with safety precautions such as masks, hand sanitizer, etc.
ArtCloud Partner Ave Gallery is presenting a Holiday Showcase online, featuring "fresh and fun art and ephemera for the gift-giving season."
1. Craig Ford, Peppermint Cake, Acrylic on Canvas
2. Craig Ford, Peppermint Dream Cake
4. Host an Online Holiday Giveaway
Pair up with a popular artist at your gallery to offer the gift of art.
It can be small or even a work on paper, but will be a fun way to engage your followers on Instagram or subscribers to your email newsletter. Your terms for entering can be as simple as following your Instagram accounts and tagging a friend, or joining your email newsletter list. There are also easy online tools that will help you randomly select the winner.
The best part is both you and your artist can market the opportunity and cast a wide net. It's a great way to say thank you to your current clients or online followers, while also helping you grow your reach.
5. Offer Gift Wrapping + Free Shipping
Tie that beautiful art up in a bow and you've got holiday cheer to share with all of your clients. Market this service online to remind people that your gallery is a great place to look when holiday shopping, and you can make it gorgeous and easy to get a unique piece, ready to put under the tree upon arrival.
6. Add Festive Language and Visuals to Your Marketing Assets
This is the easiest part of gearing your marketing towards the holidays. You can utilize holiday sayings, greetings, and ad words in your marketing lingo to get people in the mood for the season. Use seasonal colors in your marketing materials or add elements like holly leaves and Christmas lights to your visual imagery to spread the cheer.
Those are just a few ideas, but feel free to get creative with how to add a little joy to your gallery marketing this season. Shop the ArtCloud Marketplace to seek inspiration by shape, size, color, gallery, city, and so much more.
---
Learn how ArtCloud helps galleries with marketing year-round.