How-To for Galleries: Increase Instagram Exposure with Relevant Hashtags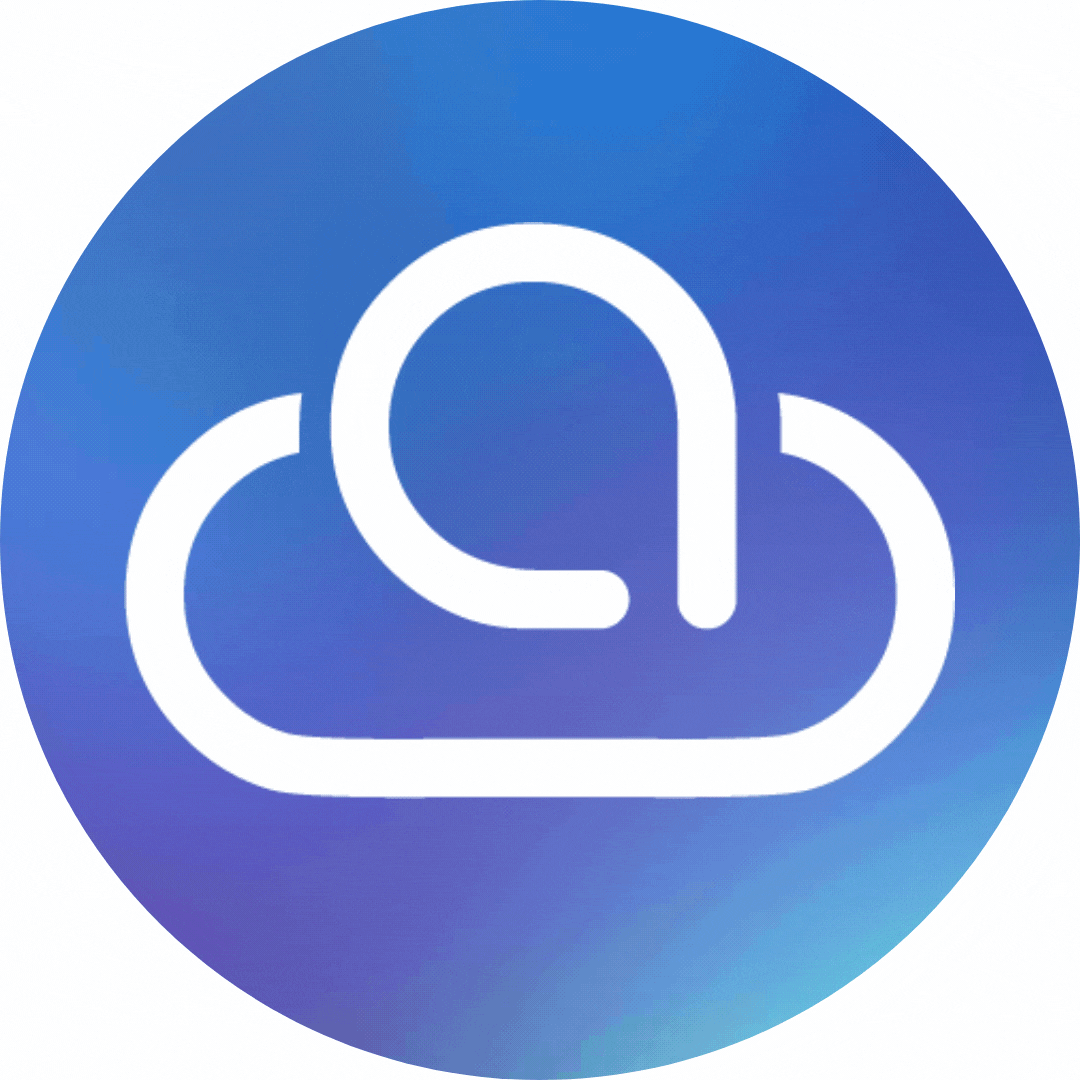 ArtCloud Team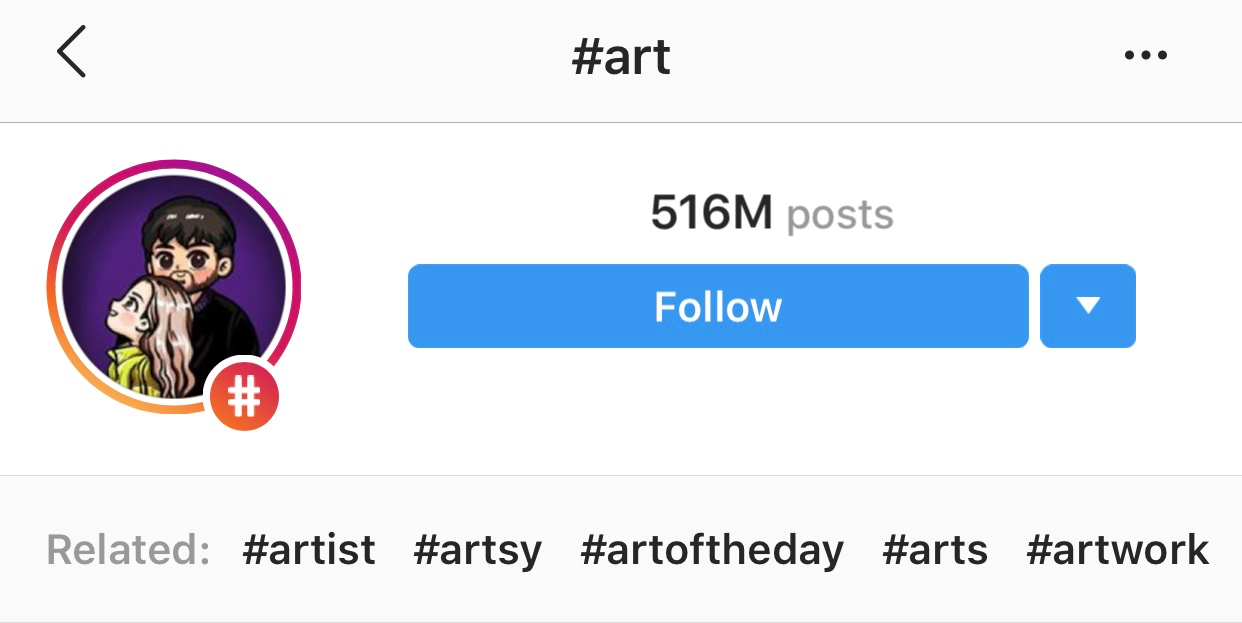 If you work at an art gallery, you know Instagram is one of the essential components of your digital marketing strategy, and a great way to grow your client base. We've posted a lot on the blog about improving your Instagram profile, using comments effectively and even creating Instagram Stories.
But what about hashtags? In this post, we'll explain what hashtags are, how they can help increase exposure on Instagram and how to choose effective hashtags for your posts.
What are hashtags?
Let's break it down a bit.
Hashtags make it easy for Instagram users to search and sort through all of Instagram for a specific type of content or theme that interests them.
When people search Instagram by hashtag, they'll only see content with that tag included. If you use hashtags on your gallery's posts, it will catalogue your image with the other images using the same tag.
The key is to use highly targeted and relevant hashtags that broaden your reach and expand your audience. Just choosing a handful of hashtags at random is not going to work as well as going about it in a systematic way.
When you use targeted, relevant hashtags, you can increase the exposure of your gallery's posts and introduce your content to new sets of audiences you wouldn't otherwise reach.
How many hashtags should I use?
This is a very common question, and there's debate on this subject.
Some say that you should use the maximum allowed for each post (30), while others recommend keeping it limited to a small handful.
We suggest doing a little trial and error to see what works best for your gallery, but the most important thing is to make sure you're using relevant hashtags!
Finding targeted hashtags for your post
So... how do you go about finding the right hashtags for your posts?
Tip 1: Find the art niche
When you search a hashtag, you can easily see how many posts are associated with that tag.
The mistake many people make is using several broad, highly popular tags. When you only use these very popular hashtags, your content is likely to get lost, especially if you are still building a following on Instagram.
For example, instead of tagging #art, which has over 520 million posts, you could make it more specific to what you're posting and tag #abstractart to narrow it to 17 million or #minimalart to take it down to about 665,000 posts.
You can even use tags that have a much smaller number of posts, but make sure you balance it out with tags that have a larger audience as well.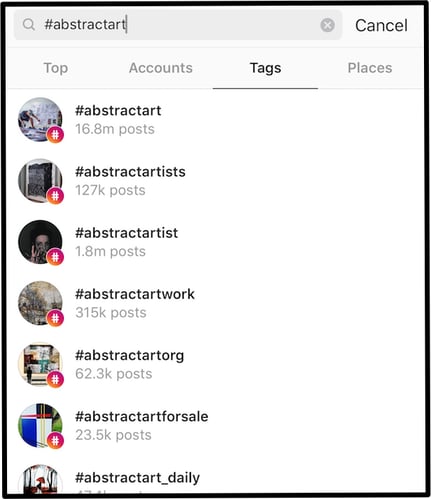 Tip 2: Search for art-related tags
Once you have a relevant hashtag, you can search that tag and immediately see related tags that may also be good options.
For example if you search #abstractart, #abstractogram appears as a related tag. After clicking on that, you might see that all of the top posts are relevant and in line with the abstract art you'd like to post. This means it's likely to be a good fit for your content.
Just make sure you select each related tag and see what type of content appears first, before deciding whether or not to use it. If the content under that tag isn't relevant to what you're sharing or doesn't fit your gallery's brand, move on to finding another one.
Each time you search a new tag, you'll find related tags below it. Now you can continue down the hashtag rabbit hole to discover new and more specific hashtags.
Tip 3: Look at what others are tagging
Another easy way to find relevant tags is to look at other accounts and see what tags they're using!
For example, look at the artists you represent to see if there are specific tags they associate with their work. If there are, be sure to use those tags when posting that artist's work.
You can also go to other accounts in the industry or even in a related industry, like design or interior decorating, and see what art-related tags they are using.
Finally, if there's a specific audience you're trying to appeal to, such as designers or architects, look at what kind of tags they use to help you find tags that will be relevant for your posts as well.
Keeping track of and analyzing your tags
It may take some time and research to get going, but once you find hashtags that are relevant and working well for your posts, you'll want to sort them into groups and reuse them. That way, you don't have to look them up every time you create a new post.
If you are using an Instagram planning app (like Later or Planoly), you can easily save hashtag sets that are categorized by the type of content you're posting. Even if you don't want to bother with an app, you can always save groups of hashtags in a spreadsheet or in your notes on your phone and simply copy and paste when you're ready to post!
Now, you can start searching hashtags, adding them to posts, and seeing how they perform! A quick little tip to see if they're working well for your posts is to look at your post's insights to see how many people are seeing your post via hashtags.
---
Ready to take your gallery's digital marketing to the next level? Learn more about how ArtCloud has helped other galleries optimize their sales and marketing strategies.