Buying Signals and Lead Status: Tools to Prioritize Art Gallery Sales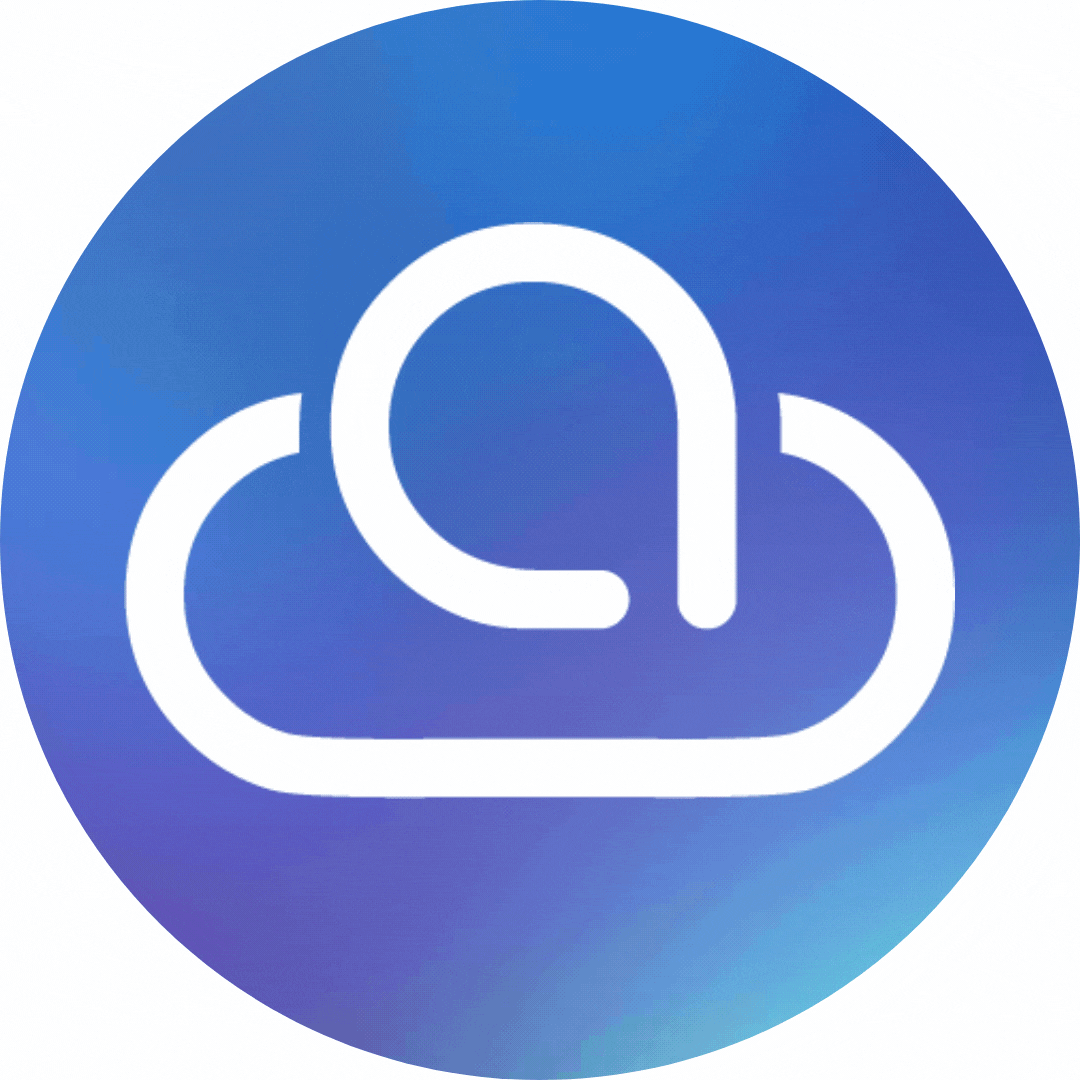 ArtCloud Team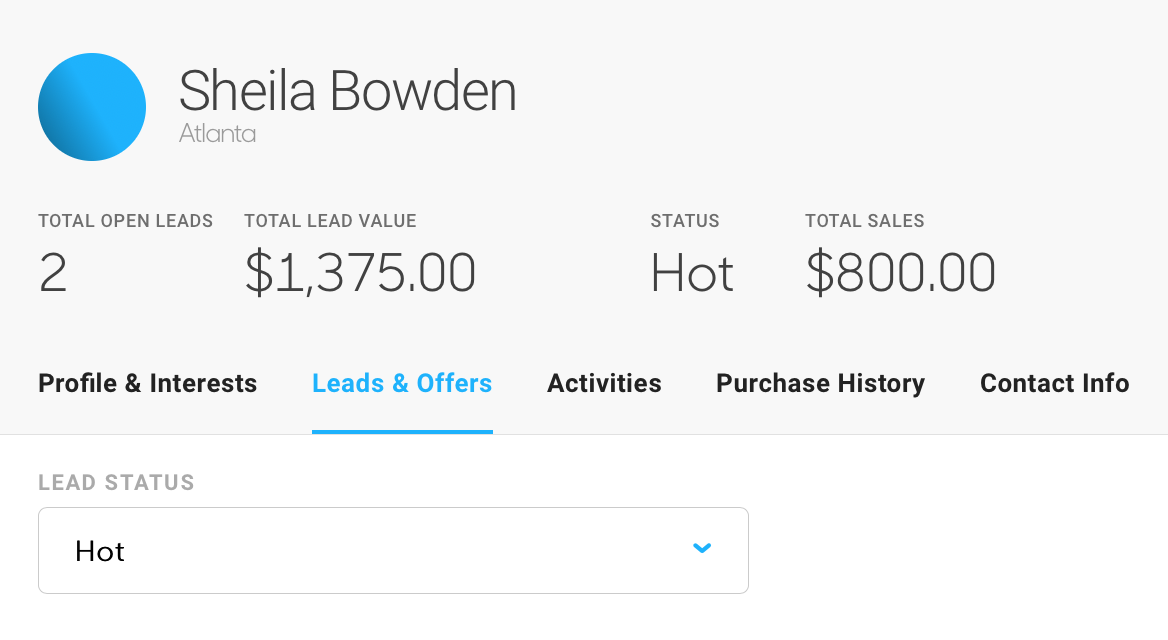 When it comes to selling art, it can be tricky to get a handle on your gallery's sales opportunities and know how to prioritize your efforts.
How much revenue could your gallery potentially bring in this month? Which clients are most likely to purchase? Who do we need to follow up with today?
If you're struggling to better understand your gallery's sales opportunities, you're not the only one. In galleries we work with, over 70% have cited managing their sales pipeline as a top priority for their business.
Here are some of the most useful ways to get a handle on your gallery's sales pipeline and optimize your internal processes for greatest results:
Tracking buying signals with artwork leads
While understanding clients' interests is key to helping them select the perfect piece of art, it's essential to differentiate between artwork they may be interested in and a lead. An artwork lead is a piece that you have received a buying signal for — in other words, the client has in some way expressed a desire to purchase that piece.
Artwork Lead: an artwork with buying signal; in other words, a piece the client has expressed interest in, either directly or through their online engagement with that artwork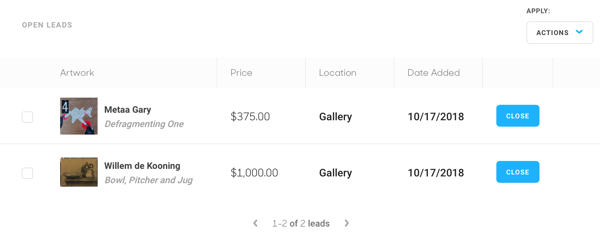 In the digital age, it's important to note that a buying signal doesn't have to be given verbally or through email. A client's digital interactions with a piece can also serve as buying signal. Perhaps they virtually installed the art in their homes, or added it to their shopping cart? That data can also be used as buying signal.
Prioritize sales activities with client lead status
Now that you're differentiating between interests and artwork you have buying signal for, the next step in optimizing your sales process is to prioritize your sales activities. Since most galleries have limited resources and staff, prioritization is essential to making the most of your time.
For clients with active leads, indicate a lead status. You can define this in whatever way makes most sense for your gallery, for example, with a system like Hot / Warm / Cold. That way, your staff always knows who they need to follow up with based on clients' lead status.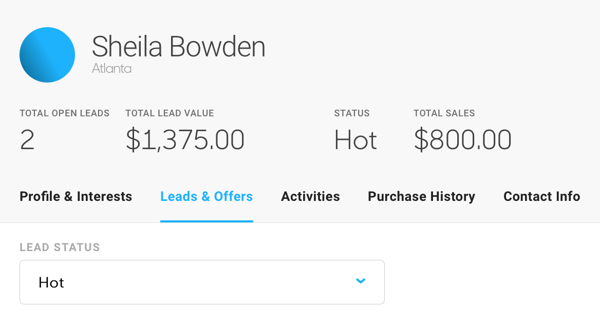 However you choose to define your lead status, make sure your entire team is on the same page as to what those mean for your gallery's sales and process. It's a great opportunity for a team exercise, and keeps your data clean and consistent.
Recording activities & setting follow ups
Once you're recording artwork leads and have defined what lead status means in the context of your sale process, it's time to get your sales engine going.
When working your sales opportunities, be sure to record all interactions with a client around a prospective sale. This is beneficial for two main reasons.
First, if another staff member has to assist with a sale, they'll have all the contextual information around previous interactions with that client. That not only helps your gallery operate more efficiently, but also provides a better experience for your clients since you can ensure you're not asking the same questions or repeating yourself.
Second, it saves your team the mental energy of trying to remember what the last interaction was and when, or trying to track it down in a notebook or on a calendar.
Every time you interact with a client — whether it's leaving a voicemail, sending an email or an in-person conversation — be sure to not only record the interaction, but also set up a follow up to keep your sales process moving along.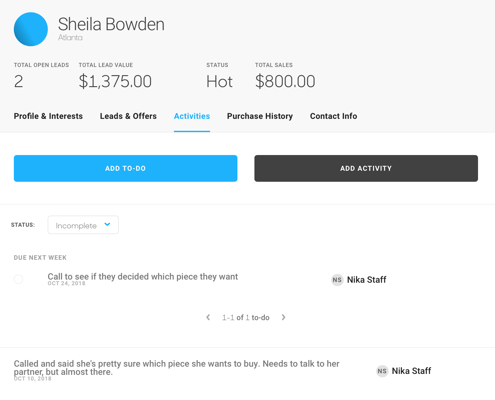 Ready to take your sales to the next level?
If you're like many galleries, you may still keep your client data in different places or have trouble prioritizing your sales efforts. Get in touch to learn how ArtCloud Manager has helped other galleries optimize their internal processes and sell more art.
---
It can be challenging to stay on top of your gallery's marketing efforts. Learn how ArtCloud has helped hundreds of galleries centralize their marketing tools and improve marketing efficiency.