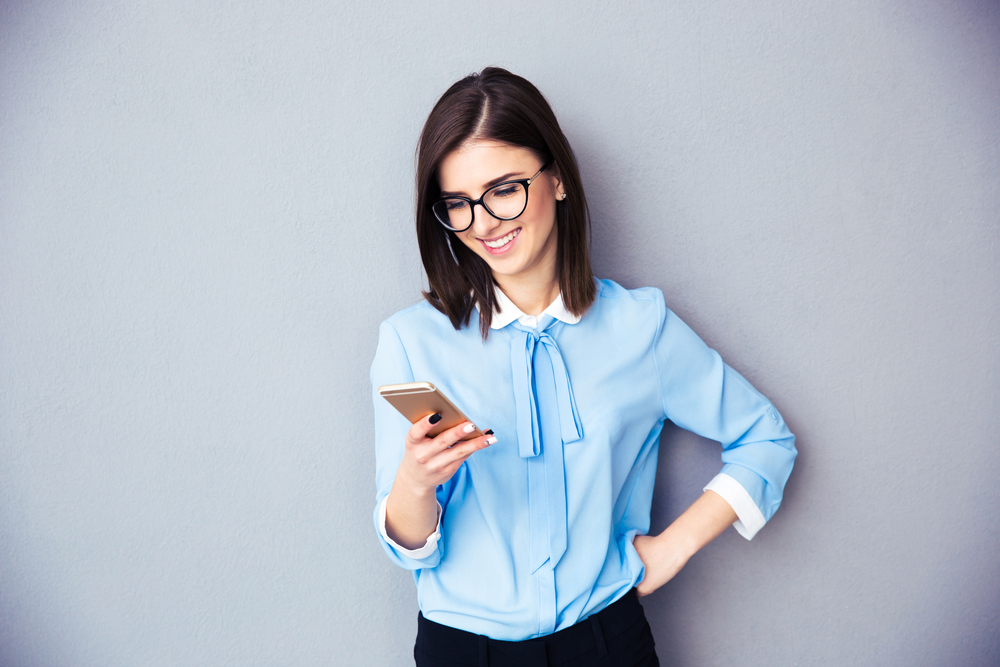 For galleries and artists, Instagram is an essential digital marketing tool. Because it's such a visual platform, your profile needs to be in tip-top shape if you want to get more followers and increase engagement. Not only should your profile look good, it also needs to be functional and helpful. Luckily, a professional, engaging Instagram profile is only a few easy fixes away!
Tip 1: Use your logo
Start with the basics. The first thing people will see when they are searching for your gallery is your Instagram handle and your profile picture.
Not everyone is lucky enough to have an Instagram handle that perfectly matches the name of their business, but if you set your logo as your profile picture, it will be unmistakable which profile is you.
Your profile will then be easily recognizable and also make it clear to those who happen upon your Instagram posts that you are a business!
Tip 2: Make it a business profile
Speaking of business, if you haven't yet made the switch to a business profile, we highly recommend it!
Having a business profile lets you add business information and contact buttons that regular Instagram profiles don't have. With contact buttons, anyone browsing on Instagram can easily call, email, or even route their way to your gallery with one click!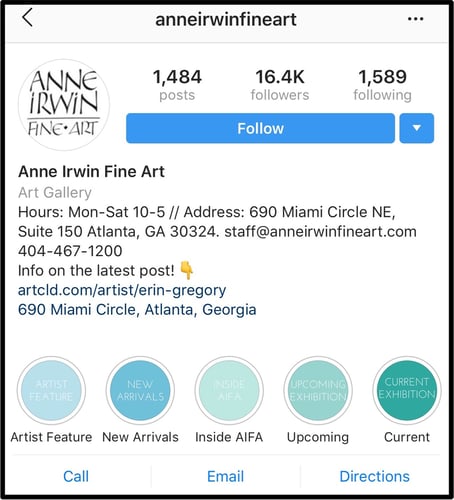 Tip 3: Edit your bio
Your bio is where you can share a little bit more about your gallery and what you specialize in, but you want to keep it short and simple.
You want to clearly define who you are as a business so that someone who happens upon your profile will know exactly what you do and what is in store if they decide to follow you!
Another easy addition to your bio is a quick call to action that defines where the link in your profile will take them. This leads to our next point: your link!
Tip 4: Link in bio
Have you ever seen Instagram posts with the phrase "link in bio" in the description? That's because only links in your bio are clickable from Instagram (links you include in the post description or comments are not clickable and can't be copied either). If you're not including and regularly updating the link in your bio, you're missing out on potential sales and inquiries.
The link in your bio is SO important and too many galleries don't fully utilize this powerful feature. It may seem like additional work to change the link with each post, but the benefit is that you simplify the buying process for prospective clients, which can lead to more sales.
If you want to keep it simple, the link in your bio should lead directly to your website. Linking to your ArtCloud Marketplace profile is another great way to make it easy for clients to shop and purchase artwork.
But the link in your bio isn't something that should always stay the same! Any time you post on Instagram, you should update the link in your profile.
Posting a piece of artwork? Link directly to that artwork's page on the ArtCloud Marketplace (like this piece from Revealed Art Gallery) or on your website.
Posting about an upcoming show? Link to that page on your website or to your show link on the ArtCloud Marketplace (like this show at Chloe Gallery).
Posting about one of your artists? Link to their profile page on your website.
Pro Tip: You can easily open Instagram on your computer browser and update your bio link there — that way, it's a simple copy and paste!
Tip 5: Update your Highlights
Highlights are Instagram stories that are featured on your profile and can be visible longer than the normal 24-hour cycle. They're really engaging, and people love viewing Highlights!
Whether you're sharing an announcement of an upcoming exhibition or some new arrivals to the gallery, it should be easy for someone visiting your profile to know exactly what they'll find in each Highlight. Be sure to keep the name short enough that it doesn't get cut off!
Naming your Highlights accordingly will also make it easier for you to add to them as you share more stories and keep them up to date.
Finally, consider going the extra mile and create "covers" for your Highlights. Covers act as small icons for each of your Highlight topics. Keep your Highlight covers in line with your gallery brand using the same fonts and colors as your website. Canva is a free tool that makes it really easy to create covers that will take your Instagram profile up a notch!
These may seem like little fixes, but together they can make a HUGE difference to your Instagram profile and help you make the most of this powerful digital marketing tool.
---
It can be challenging to stay on top of your gallery's marketing efforts. Learn how ArtCloud has helped hundreds of galleries centralize their marketing tools and improve marketing efficiency.